"Here we go again, kinda want to be more...
I enjoy tumbling away to good music :)
That heavy feeling when you thought everything was going well but then something unexpectedly comes up and stabs you from behind. 
"Good people may do bad things sometimes, but bad things don't always make..."
Being friends with your ex.
supjerbear: To me, if an ex is able to stay friends with you after a breakup, it tells you that when you guys were together, they actually liked you for you, and that being with you was just a way to get to know you better. They're a keeper if they can look past the awkwardness of the fact you guys had a thing, and be friends just like before. well said! couldnt agree more :)
Things aren't always going to be fair — that's just how it is — life sucks and then you die. You can either keep whining about it or suck it up, get over it, and make the most out of whatever is left. For the most part, I just hope that everything will eventually work out. 
It is what it is
I know there are some things that I'll "miss out" on but I have already made my decision and no, I don't regret it (not now at least). I may not know what I want yet but at least now I am sure I know what I DON'T want. I am still trying to clear my head and put everything together. The situation is far from ideal or certain or easy and there is a chance that I might...
18 tags
Intuition vs. Reason
How do you know when you should trust your instincts or be reasonable? Sometimes I get this bad feeling about something  and it just doesn't feel right. At the same time, I don't have a reason or any evidence for proving this. I just have this gut feeling and it feels wrong. I want to do something to prevent people from getting into a complicated situation and end up being hurt —...
"My philosophy was you and me" This...
Someone once told me not to make promises when I'm happy cause most likely I won't be able to keep it.
Don't think, just do
Sometimes I wish I don't have to worry about the consequences and just let myself do whatever I feel like doing at the moment. Sometimes I wish I can just live in that moment and not have to care about what happen afterward. But in reality, that's just not possible, there will always be consequences and risks involved, I'll just have to determine if it's worth it.
Push Ups:
funny-pictures-uk: Expectation:   Reality: haha. soo true
All Good
Things seem to be going on the right track. Just got my license today then dmv gave me $30 to take this survey. Got the job and going off to college. I think life's going pretty good :)
Still a Kid at Heart
Yupp. That's basically what I still am — a kid at heart and I don't really mind. I mean its not bad or anything. It's just that there are alot of reasons to be happy. No need to stress and put on my big girl panties anytime soon. Life's all good <3
You act like you know me
when you don't even know shit. You think you know me but the truth is you don't know anything. I can make my own decisions, I don't need you to constantly tell me what's "good" for me and what I need to do. I don't need to gain your approval for everything I do. I'm going to do what I want to do not what you want me to do.
It'd be nice if everyone can stop making...
No Regrets
Looking back, I wish I can say that I did all the wrong things for all the right reasons. I do miss certain parts of the past and all those "good old times," but as much as I much as I miss them, I wouldn't go back to it. Even if I were to go back in time, I wouldn't want to change anything. The past is the past. Don't let the past ruin your present… I mean...
My Dream Wedding Dress ;D
fuckyeahweddingideas: "Wear your cake and eat it too" lol
Dear Future Boyfriend,
notestomyfutureboyfriend: Get ready for lots of Disney movies, blanket forts, and cuddling. Get ready for me to text you random facts that I learn throughout the day. And please prepare yourself for when I fall in love with you, because I don't plan on messing it up. Love, Me
Trust
I guess I can be consider a pretty gullible person when it comes to this but to me I guess it is better than being a doubter. I'll start letting my guard down when people stop giving me reasons to keep it up and I'll believe you until I have a reason not to do so anymore.
"In three words I can sum up what I know about...
In the End
There comes a point in life when you get tired of chasing everyone and trying to fix everything, but it's not giving up. It's realizing you don't need certain people and the drama they bring. I was never the kind of person to give up. I have always tried until the very end to make the most out of whatever's left. I guess in a way  you can say that I'm just stubborn. I have always...
Finish what you started
That was my new year resolution. I never liked leaving the things the way they were and just wait for everything to fix itself. If I get into an arguement, I would want to talk things throught before reaching a compromise. Things won't change for the better until someone make the effort to do so. Alot of things are like a two-way street, it can go both ways, the effort should be mutual. You...
Sticky Situations
Maybe it's cause I'm stupid or that I just have horrible luck… but somehow I always end up in these sticky situations. I usually would hate depending on other people to come save me because first of all, no one is obligated to help me and I would never want to drag anybody into my shit and become a burden to them. All my life, I've been told that I'm useless and shit,...
When I like someone,
inspirationalbullshit: I'm meaner to them. So many people always try to be sweet to the one they're interested in, but that honestly gets tiring after a while. It's more fun to be an ass. Plus you get to see how tolerant they are, and how much of a sense of humor they have. And it's just that more special when you're sweet, because it stands out more. I'd say… 70% asshole 30% sweet. If someone...
"Dude, wanna hang out?" "Nah. Hanging out with my...
This is probably the most legit post I've seen in a week.
Old enough to know it's a bad idea, young enough...
From this day on, everything is just a matter of...
Survey cause I dont feel like doing Homework :D
What was the first thing you did this morning? - check my phone What is your favorite cereal? - coco pebbles Would you rather marry a millionaire that is unfaithful or middle class worker that only has eyes for you? - stupid question obviously the 2nd one Would you rather have a job that requires strength of the body or the mind? - mind because i dont have much body strength :( How old were...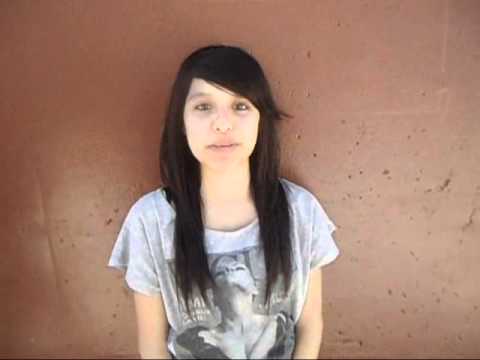 Temporary Happniess
People come and people go. The people who used to make you smile end up making you frown. Certain things are only meant to part of a certain stage of your life. Eventually we all have to grow up and move on. Things can be simple and happy all the time. But while things are still that way, I guess being the carefree little kid isn't really that bad. Doing stupid things and creating some happy...
What a Day
I've never been failed to be suprised by how many thigns can actually go wrong in one day. Soo it started yesterday afterschool when I got locked out of my house but it was no big deal since it happens quite often so I'm pretty much use to it. My parents are super asian and added an extra lock on top of the keyhole and never gave me that key because they think I'm going to loose...
I took this from Kelly Tran :)
Have you ever kissed someone who's name started with L? LMAOO. i actually have Have you held hands with anybody in the last 4 days? nopee If you had to get a piercing (not ears), what would you get? belly but i have it already soo i dont know :X Honestly, who are you texting? andreww chu lol Do you cross your legs when you sit? from time to time Have you ever liked someone who didn't...
Regret much???
Once again another bummer post. Sigh… I must probably sound like an emo person over tumblr by now. I wished I tried harder. I knew what I needed to do but I didn't do it. I guess the part I regret the most is that this is not trying.. all the could'ves, would'ves, and should'ves. Maybe if I actually put in my best effort, then I can have something else to blame other...
Things That Mattered
There were some things that I used to care about… things that used to be important…things that I revolved my life around. I thought that without these things, my life would be chaotic not knowing which direction I should go. But now that it no longer matters, I 'm glad it's out of my life. The thing I miss the most is probably the familiarity and the comfort that comes...
Saturday
iamstevenw: service and social. i had a pretty interesting day, or i can say it was kinda different. people changed, i saw this so clearly that it kinda hit me. oh well, that happens pretty often to me. im the quiet one but i alway have alot of stuff going on inside. and i guess "it" came back, idk if im gonna let it come or resist it this time. but i will just keep telling myself "its just a...
Good things take time...
but then really great things can happen in the spurr of a moment ;)
"No expectations, no disappointments."
Once again… my life went back to this quote. Sighh… I don't really like bummer posts but today i actually feel like I need to get some things of my chest. Soo back in winter break, I made a decision that for 2011, I won't base my life off this quote anymore and should just learn to accept all the let downs associated from having hope. By opening up, I was hoping for...
The "Good" in Goodmorning
I have never been much of a morning person. Ask anyone that knows me, my attendance record is horrible for first period which is ironic since I live like right across the street from school. Usually would end up coming to school all dead looking like a zombie and grouchy from skipping breakfast. Liked I said, I'm really not a morning person. I don't like mornings period. You wake up...
I heard you're a player.
kcwg: So let's play a game. Let's sweet talk. Let's play fight. Let's talk 24/7. Let's tell each other good morning and good night every day. Let's take walks together. Let's give each other nicknames. Let's hang out with each others' friends. Let's go on dates. Let's talk on the phone all night long. Let's hold each other. Let's kiss and hug. And whoever falls in love first ? Loses.
"Truth is, everybody is going to hurt you; You...
I still believe in this <3
What can't you live a day without?
keaiconnie: I can't live a day without thinking if you ate yet, if you slept well, if you had enough sleep, if you weren't cold, if you are tired. I can't live a day without thinking who you are talking to right now, who you are hanging out with today , what you are doing. I can't live a day without missing you.  I can't live a day without thinking if you miss me as much as I do.   But what...
"Life's a beach and I'm just playing in the sand"
What started out to be a great year is ending let's just say…not so great. So I'm hoping that if 2011 starts out as a horrible year then it will end up being one of the best years on my life. As things go wrong, I finally learn how to appreciate things when they were right. All the little simple happy things that I once took for granted, I wish I had embraced them instead of...